University of New Mexico and UCLA Alumni to Participate in Year-Long Fellowship with MPA and Member Studios 
The Motion Picture Association (MPA) and the Entertainment Industry College Outreach Program (EICOP) today announced the upcoming class of the MPA-EICOP Entertainment Law & Policy Fellowship program. This unique and prestigious one-year fellowship creates opportunities in the entertainment industry for high-performing recent college, university, and law student graduates from Historically Black Colleges and Universities (HBCUs), Hispanic Serving Institutions (HSIs), and other Minority Serving Institutions (MSIs).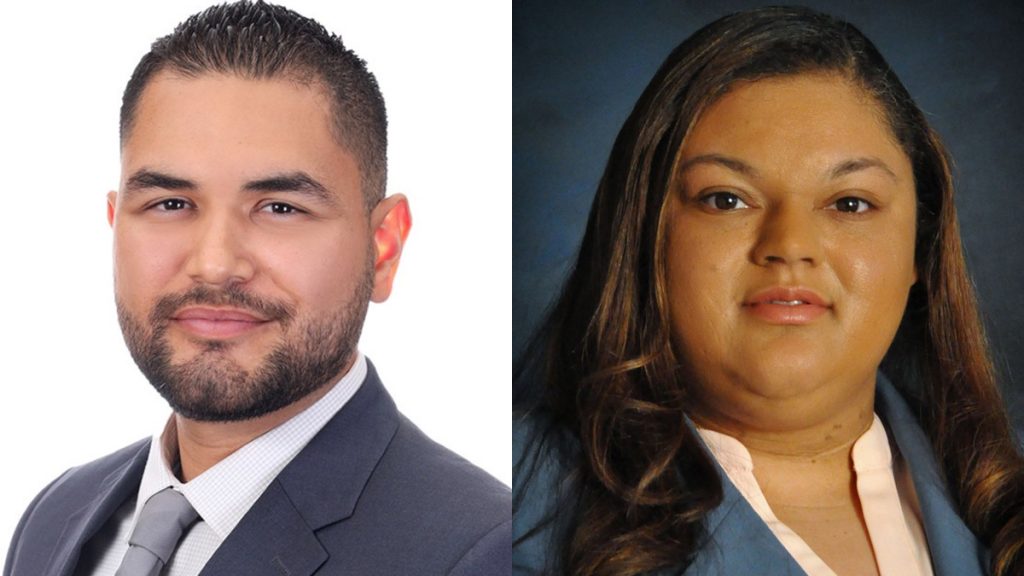 The 2023 Fellows are Alberto Lugo, who received his J.D. in 2022 from the UCLA School of Law with specializations in Media, Entertainment, & Technology Law and Policy and Critical Race Studies; and Samantha Wauls, a 2022 graduate from the University of New Mexico School of Law.
Lugo is a first-generation college graduate and the only person in his family to have gone to law school. While in law school, he was active in the Latinx Law Students' Association and the Mexican-American Bar Association of Los Angeles County.
Wauls is African American and Lakota-Lower Brule Sioux Tribe (descendant). Wauls has worked with Indigenous communities, both as a crime victim advocate focusing on the issue of Missing and Murdered Indigenous Women and Relatives and as a teacher in her tribal community. She is also a first-generation college graduate and the first in her family to earn a law degree.
"The MPA-EICOP Entertainment Law & Policy Fellowship underscores our commitment to advance diversity, equity, and inclusion across all aspects of the entertainment industry," said Charles Rivkin, Chairman and CEO of the Motion Picture Association. "We are delighted to have Samantha and Alberto join our team from prestigious HSIs. They were selected from hundreds of qualified candidates due to their outstanding academic accomplishments and drive to excel in the entertainment law and policy arena."
"We are thrilled to see the MPA award highly coveted fellowships to Samantha Wauls and Alberto Lugo, who are graduates from Hispanic Serving Institutions," said Stacy Milner, President and CEO of EICOP. "Their achievements illustrate our dedication and commitment to offering accessible programs that create lasting, inclusive, equitable change in all areas of the entertainment business. We look forward to watching as they develop their skills and contribute to the future of a diverse workforce in entertainment."
The MPA-EICOP Entertainment Law & Policy Fellowship is a one-year program. Fellows will spend six months with the MPA, splitting time between the association's office in Los Angeles and its global headquarters in Washington, DC. The program will conclude with six months at one of the MPA's member studios: Disney, NBCUniversal, Netflix, Paramount, Sony Pictures, or Warner Bros. The fellowship is designed to eliminate barriers to entry into the entertainment industry by providing financial support, paid housing and travel, and a living expenses stipend.
Throughout the year-long program, fellows will gain experience alongside some of the industry's leading senior-level legal and government affairs executives. In addition to the program's in-depth, hands-on exposure to various sectors of entertainment law and policy, fellows will go on-site to studio lots and visit top entertainment law firms. They will also interact with other industry professionals and peers at networking and industry-related functions to round out their experience.
Fellows were vetted through a comprehensive, highly competitive process. The Selection Committee responsible for assessing and reviewing applicants represents executives and leaders from the following organizations: Black Entertainment and Sports Lawyers Association (BESLA), Japanese American Citizens League, National Hispanic Media Coalition, National Urban League, Native American Media Alliance, U.S. House of Representatives | Office on Diversity and Inclusion, White House Initiative on Advancing Education Equity for Hispanics, and White House Initiative on HBCUs.
# # #
About The Motion Picture Association
The Motion Picture Association, Inc. (MPA) serves as the global voice and advocate of the motion picture, home video, and television industries. It works in every corner of the globe to advance the creative industry, protect its members' content across all screens, defend the creative and artistic freedoms of storytellers, and support innovative distribution models that bring an expansion of viewing choices to audiences around the world. The MPA's Diversity, Equity, and Inclusion initiative supports 51 educational, multicultural, and civil rights institutions including the White House Initiative on HBCUs and Southern University and A&M College. The program is currently celebrating its 10th anniversary and fifth year as a partner with EICOP. The association's member studios are Netflix Studios, LLC; Paramount Pictures Corporation; Sony Pictures Entertainment Inc.; Universal City Studios LLC; Walt Disney Studios Motion Pictures; and Warner Bros. Discover Inc. Charles Rivkin is MPA's Chairman and CEO.
About The Entertainment Industry College Outreach Program
The Entertainment Industry College Outreach Program (EICOP) is a 501(c)(3) non-profit educational arts workforce development program, dedicated to educating, training, and recruiting the best and brightest diverse student leaders from our nation's HBCUs and other Predominately Minority Institutions for careers across all aspects of the entertainment, media, sports, music, and technology industries. Its signature program, HBCU IN LA, was launched in partnership with then-President Obama's White House Initiative on HBCUs. Since its launch, the MPA has served as an important partner in creating access for HBCU Law students to participate in this important diversity pipeline development initiative. The MPA and its six member studios are all existing partners of EICOP and its programs.
MPA Media Contact
John Mercurio
[email protected]
About Techlatino: The National Association of Latinos in Information Sciences and Technology: www.techlatino.org
Through its network of nearly 15 affiliated community-based councils, association and partnerships with non-profit organizations, LISTA advocates on behalf of the millions of Latinos in 50 states and the District of Columbia, Puerto Rico, South America and Spain. To achieve its mission, LISTA conducts workshops and seminars, national business series, research, policy analysis, and technology awareness programs in order to provide a Latino perspective in many key areas in technology — development of the 21st century workforce, Coding, health information technology, STEAM education, employment/economic status, business development and broadband . In addition, it provides workshops and training to technology professionals and students in health it, big data and other technology opportunities for individuals small businesses and families. Helping Close the digital divide and giving opportunity to all.