Government technology practitioners from various cities and countries gathered last week to discuss the future of "smart cities" and the "Internet of Things" at the Smart Cities NYC conference that took place at the Brooklyn Navy Yard.
One panel was moderated by Jeff Merritt, Director of Innovation for the City of New York and a go-to person for smart cities in the local administration, and included technology leaders from four cities — Chicago, Atlanta, Toronto, and Amsterdam — who discussed a variety of ongoing projects and future plans. A portion of the discussion focused on the Internet of Things, which generally means a series of interconnected devices with the ability to exchange data. The panel was preceded by a keynote address by Miguel Gamiño, New York City's Chief Technology Officer.
Merritt led the panelists in a discussion of the importance of changing processes and government operation in the digital era, and making progress in the ability to respond to challenges presented by the new world technological order, which is also constantly evolving. This includes integrating emerging technologies into everyday work, from substituting paper documents with digital to adopting the use of sensors and establishing citywide connectivity. The Internet of Things may be a piece of the puzzle.
"I do think we are at a tipping point," said Ger Baron, Chief Technology Officer of Amsterdam, Netherlands, referring to the transformation of government, which is essential for adapting to the expanding digital world. Similar to the banking industry that has been adjusting and launching digital services, the government, Baron said, needs to redefine itself and move away from the organization designed 30 or 40 years ago. Government needs to get rid of obsolete procedures and focus on relevant ones, he said.
"This is the moment to start connecting the dots," Baron said, referring to evaluating lessons from recent years. He added he is optimistic about ongoing initiatives around the world that indicate responsiveness to the need for change and modernization.
In Amsterdam, the government adopted a shorter policy-making cycle and more agile approach to creating and testing regulations in order to provide better solutions.
In an interview with Gotham Gazette after the panel, Baron mentioned that the city constantly sees an inflow of new initiatives, such as sharing economy platforms, for instance, but related regulations are often late, outdated, or based on irrelevant data. To resolve the issue, the government began to evaluate and revise smart city regulations every three months based on the information gathered through Google analytics, social media, citizens' feedback, and other sources. Baron referred to it as a relatively new form of measuring an output of government efforts as opposed to the more traditional three- or four-year cycle that typically accompanies a government administration.
Meanwhile, Chicago's flagship smart cities initiative is the "Array of Things," a network, consisting of 500 sensor clusters, with around 20 sensors in each, that will cover the entire city by 2018. About 50 sensor nodes were installed in 2016. They gather massive amounts of data on environment, infrastructure, and activity every second of every day, said Brenna Berman, former CTO of the city and current executive director of City Digital, and will continue doing so for the next five years and beyond.
Merritt referred to the Array of Things as "one of the most publicized IoT deployments, perhaps, in the world." It was launched in 2016 and is primarily intended as a research platform. Its two purposes, Berman said, are to prove that it's possible to build hardware that survives diverse environmental conditions for five or more years and to collect real-time data, such as air quality or noise. The data then can be used, for example, to study connection between environment and diseases, or collect traffic information and time the traffic lights. No privacy concerns were discussed at the panel.
One use-case example for the platform is mapping the safest routes for students in the neighborhoods with high rates of asthma. Analysts discovered that even changing the door through which the students enter the school or altering the path they take to get there, can decrease the rate of absences, Berman said.
According to Berman, similar projects are currently in deployment in other cities around the world, including Denver, Seattle, Delhi, and cities in the Middle East and Africa.
"What we are trying to create is an IoT-specific urban scale research platform," Berman said. She mentioned that the "city-sensing platform" will be at scale in 2018, but data will become available to public at the end of May, this year.
In the meantime, Chicago high school students are learning about the project by recreating a small scale version of the Array of Things in their science classes. As part of "complementary" high school science curriculum, they install the sensors around the schools, gather similar data, and analyze it in class.
In a later panel on collaboration between CIO's of the cities, Berman spoke about her approach to privacy policy for the projects like the Array of Things. To put together policy in Chicago, she first looked at Seattle and New York to learn from the work that was done and processes these cities went through. "Sensors in general are collecting data in a public way, so privacy is a component of sensors in every city. So every city is dealing with privacy. And the privacy policy for every city is going to be different," Berman said, explaining it with differences in priorities and local communities. [pictured below, l-r: Rob Meikle, Samir Saini, Brenna Berman, Ger Baron, Jeff Merritt]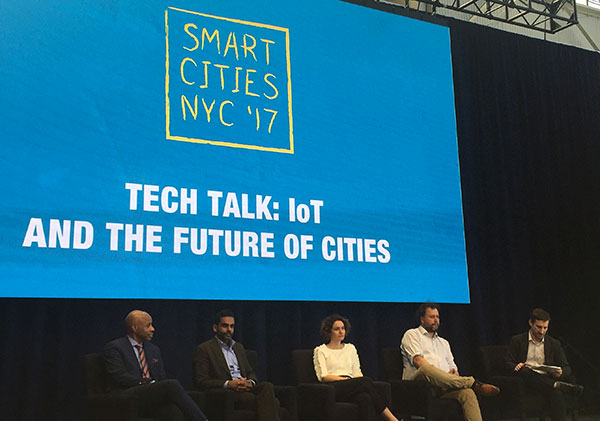 Atlanta is testing the waters by creating a "smart corridor," before turning the whole city into a connected network.
According to Chief Information Officer Samir Saini, the future corridor, roughly a five-mile stretch of Atlanta's North Avenue, will be packed with a blend of IoT devices from various providers, some underground, others above ground, collecting different types of data. The city then plans to analyze it and apply to improve the corridor.
"We have about 100-plus IoT sensors that will be able to see, hear, and smell every square meter of North Avenue," Saini said at the Smart Cities panel. The sensors will gather data related to the environment, safety, and mobility.
Saini also referred to predictive analytics as a game-changer and mentioned that the city is taking baby steps in this direction, hoping for big leaps in the future. The goal is to develop a data repository "that would serve as a backbone for an urban operating system," he said.
In Toronto, one of the largest projects that would eventually serve as a base for the smart city initiative is revitalization of the waterfront. This includes covering 2,000 acres of the waterfront area with fiber optic network that will ensure connectivity throughout the district and encouraging developers to construct smart buildings.
In addition, Toronto recently started using drones to inspect 1,800 overflows and watercourses that don't have easy access by foot, said Rob Meikle, Chief Information Officer of the city.
All speakers agreed on the critical role of public private partnerships (P3) to advance the development of smart cities, for instance, government partnering with startups, telecommunications providers, and universities. Public space in the digital world is different from public space in the real world, said Ger Baron, and it's important to establish relationships with technology companies, startups, telecommunications companies and others who own the digital space and the data.
For Atlanta, for instance, this type of partnership is a critical collaboration with Georgia Institute of Technology, widely known as Georgia Tech. The power of being a smart city lies in the data, Saini said, and one of the key resources for the IoT projects is data scientists, whose job it is to make sense of information and find patterns. The Atlanta-Georgia Tech partnership includes access to the university's data scientists, whom the city government cannot attract as of now.
"It not just about a pilot or technology, but it's really, when we talk about data, it's about attitudes, mindsets and behaviors, and how do we foster that culture," said Rob Meikle, speaking about establishing the civic innovation office in Toronto. Meikle's statement refers to the importance of support of data analysis and technology projects by stakeholders within the government for the successful innovation within the cities.
Preceding the panel, Miguel Gamiño, Chief Technology Officer of New York City, shared his vision on city's engagement in the "digital revolution" in a 20-minute keynote address. Gamiño highlighted data, connectivity and people as three key resources for smart city. He also mentioned artificial intelligence, autonomous vehicles and drones as concepts to watch and shared an overview of LinkNYC, the new wifi and multimedia kiosks that are replacing old payphones across the city, and connectivity as flagship smart city initiatives happening in New York.
"We are focused generally still on delivering broadband to all New Yorkers, so that is a consistent priority," Gamiño told Gotham Gazette in an interview later that week. The administration is evaluating the means to integrate smart connected projects with each other, he said. "At the end of the day, that's the real benefit to the public, is when these individual projects work with one another in a way that makes the public experience significantly better."
Gamiño of New York City, Berman of Chicago, and Saini of Atlanta are also the founding members of Global Cities CIOs Council, created in Autumn 2016 to promote knowledge sharing and collaboration among chief technologists in the cities around the world. The council's activities include sharing of lessons learned, potential collective negotiation with vendors, and other tasks.
"I do think in a year — 18 months — you will see a common deployment across two or more cities," said Berman. "I think you will actually start to see the first cross city deployment of an IoT solution in the next year."
***
by Natalia Erokhina for Gotham Gazette
@GothamGazette